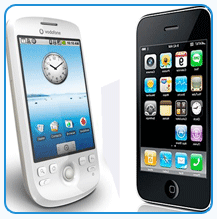 i-Phone
Course contents :
Introduction to Programming language Objective-C.
Xcode IDE as a development tool
The iOS Developer Center, Programme and SDK.
Interface builder GUI Tool.
Cocoa Touch Design Patterns.
View and View Controllers.
Manage Navigation.
iPhone and iPad virtual Keyboard.
Gesture Recognizers.
Graphics.
Animation.
Performance and Debugging.
Submitting your app for approval.
Introduction iPad App Development.